Siem Reap, 6 November 2015: "Least Developed Countries are some of the most vulnerable to climate change," said Judith Karl, UNCDF Executive Secretary, in her remark on 2th November on the occasion of the Strengthening Resilience and Adaptation to Climate Change through Local Government Systems: Lesson Learned from the Local Adaptive Living (LoCAL) Facility, Siem Reap Province, Cambodia. "They are the least able to recover from climate stresses; have lower capacity to adapt than other developing countries; and their economic growth is highly dependent on climate-sensitive sectors, such as agriculture."
Phnom Penh, 29th February 2016: Cambodia is one of the first countries to Pilot LoCAL mechanism. The Local Governmet Climate Change (LGCC) was designed to support the capacity of the LoCal Governent to implement the Climate Change Adaptation to increase the resilience at the local level. As the result of the phase I and the phase II of the project with the support from EU GCCA and SIDA, LGCC has demostrated that the Peformance Based Grant Mechanism ...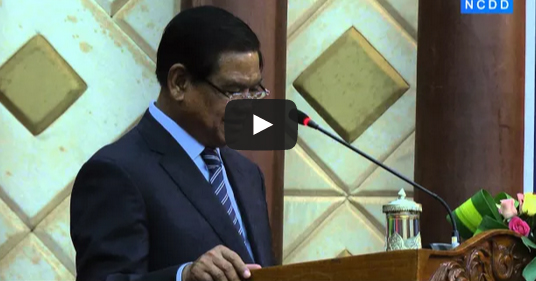 Remarks by SAMDECH SAR KHENG, Deputy Prime Minister, Minister of Interior, and Chairman of the NCDD, in Signing Ceremony Agreements between the Government of Switzerland and the Government of Sweden with the Royal Government of Cambodia for Support to Sub-National Democratic Development, 8 June 2015, Ministry of Interior. Click here to watch video. 
6th November 2015- Siem Reap: Local Climate Adaptive Living Facility (LoCAL) is an UNCDF facility for investment in local level climate resilience that channels global adaptation finance to local governments. It provides a mechanism to enable the mainstreaming of climate change adaptation into local government's planning and budgeting systems; increase awareness and response to climate change at the local level; and increase the amount of finance available to local governments for climate change adaptation...