Details

Published on Wednesday, 06 March 2013 11:07
Kampong Cham, 6 March 2013: In collaboration with the Ministry of Health (MoH), Ministry of Planning (MoP) and USAID Better Health Services Project (BHS) implemented by University Research Co, LLC (URC), the Ministry of Interior (MoI) on 26 February 2013 launched a pilot web based application for recording and reporting civil registration and vital statistics (CRVS).

The pilot is launched in Kampong Cham province with four selected Sangkats of Kampong Cham Municipality and seven selected communes of O' Raing Ov District for the duration of 12 months.

The launching ceremony was presided over by several honorable guests: (1) His Excellency Leng Vy, the General Director of the General Department of Local Administrative Department, Ministry of Interior, (2) His Excellency Luon Limthai, Deputy Provincial Governor of Kampong Cham province and (3) Dr. Mean Reatanak Sambath, M&E and Health Informatics Program Leader of URC.
HE Leng Vy deeply thanked USAID for its support through URC. He stressed the tremendous opportunity of applying CRVS web based applications to improve the timeliness of reports and access to data and information on registrations.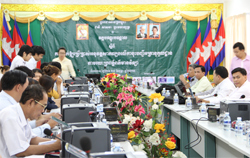 A total of around 80 government staff from MoI, MoH, MoP, Provincial, district and commune offices attended the launching session.

The CRVS web application records and reports data of births, certified births, marriage and deaths. Data tracks causes of deaths, for example facilitating the reporting of maternal deaths by commune officers. Data is shared at all levels of government and between different Ministries and Sub-National Administrations.