Details

Published on Monday, 11 February 2013 11:18
Hits: 6614
Phnom Penh, 11 February 2013: The Cambodian Center for Human Rights (CCHR) on 7 February 2013 hosted a roundtable discussion on "Women's Political Participation at the National Level" aimed at bringing together individuals working on women's participation and representation and members of political parties, to discuss issues relating to the role of women in politics at the national level.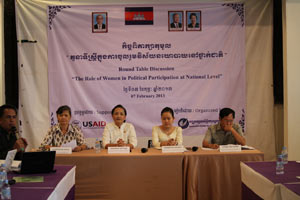 According to CCHR's media alert, the roundtable discussion provides political parties with a platform to discuss their policies to promote women's participation and representation ahead of the national elections scheduled for July 2013.
Approximately 56 participants attended the event.
 
The media alert reads the roundtable discussion was carried out as part of CCHR's Project to Promote Women's Political Representation in Cambodia that seeks to promote women's political representation in Cambodia, specifically through advocating for the achievement of the minimum target of 30% representation of women at all levels of government.

Following the roundtable discussion, the issues raised and the recommendations of participants will be incorporated into a policy brief and sent to relevant ministries and government institutions, in order to seek their feedback and to encourage dialogue.